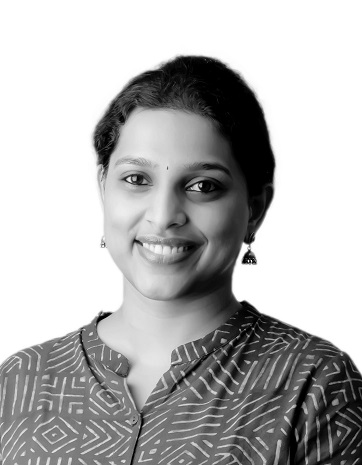 Achaaryaa (आचार्या)
Meera (Meera) serves as a faculty at the National Institute of Mental Health and Neurosciences (NIMHANS), Bengaluru, India. She is part of a multidisciplinary clinical team that works with children with autism spectrum disorder and other neuro-developmental disorders.
While her academic career has taken several important turns, Bharatanatyam has been a steady companion since she was a bubbly young 6-year-old. She has learnt this art form with an abiding passion for close to 3 decades under various dance gurus in Bangalore. In the last 10 years she has been learning Bharatanrityam under the able guidance of Smt. Nirupama Rajendra. She has performed solos in various dance festivals within India and in the US where she lived for 2 years while she was on her Fulbright-Nehru post-doctoral fellowship in neurosciences. She has also been part of some of Abhinava Dance Company's productions. More recently she has started to learn Kathak at Abhinava.
Meera believes that dance has not only kept her happy but has hugely impacted the way she thinks of her profession. She hopes to continue to learn this art form. She serves as faculty of Bharatanatyam at Abhinava dance school – a role that brings her immense joy and contentment.